If you were browsing Twitter last week you may have seen a few people taking pictures with me during WWDC. You may also have seen people tweeting pictures of me standing next to a banner containing a life-size picture of… me with a #picswithdave hashtag covering my chest.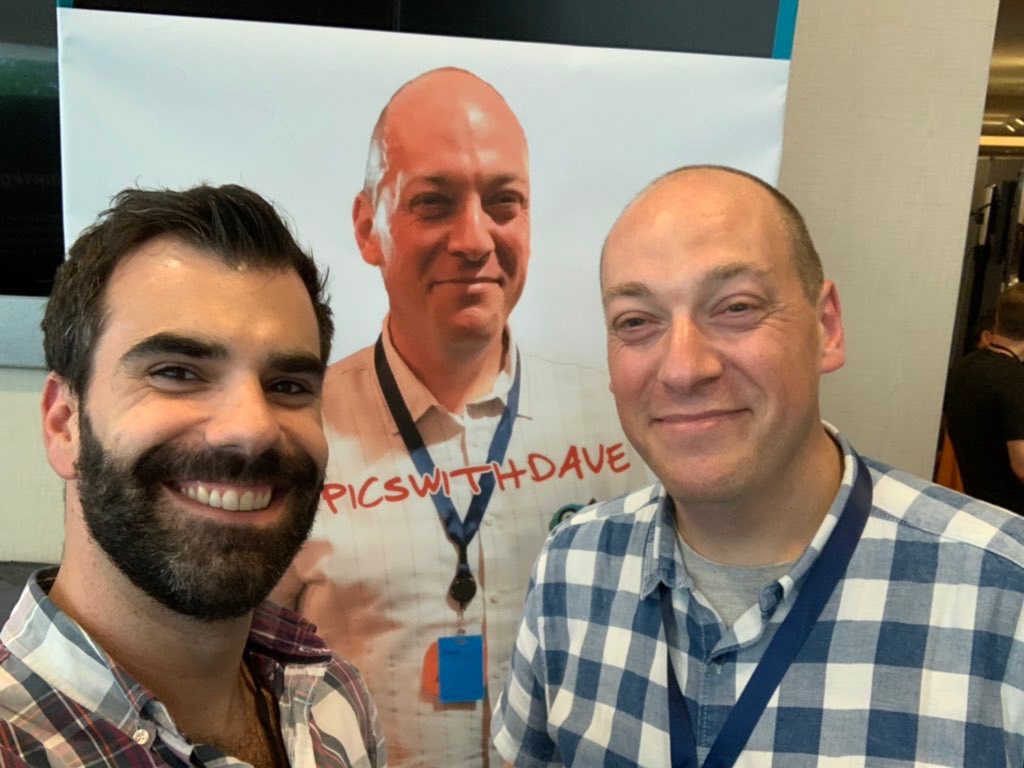 You may even have seen tweets with people posing with the banner, but without me. 😂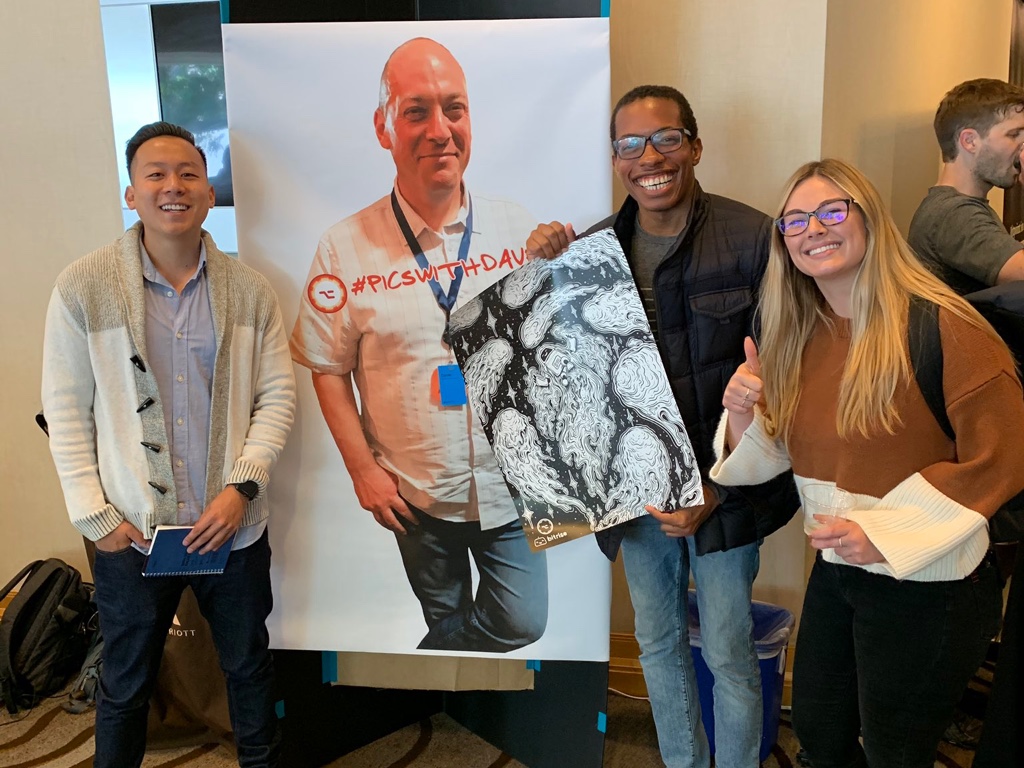 But my favourite tweets were the ones from people who were taking pictures with the banner, without even being sure why they were doing it. It was at this point I realised I may have become a meme. 🤩
I'm still not exactly sure why #PicsWithDave is a thing, but I'm totally down. 😆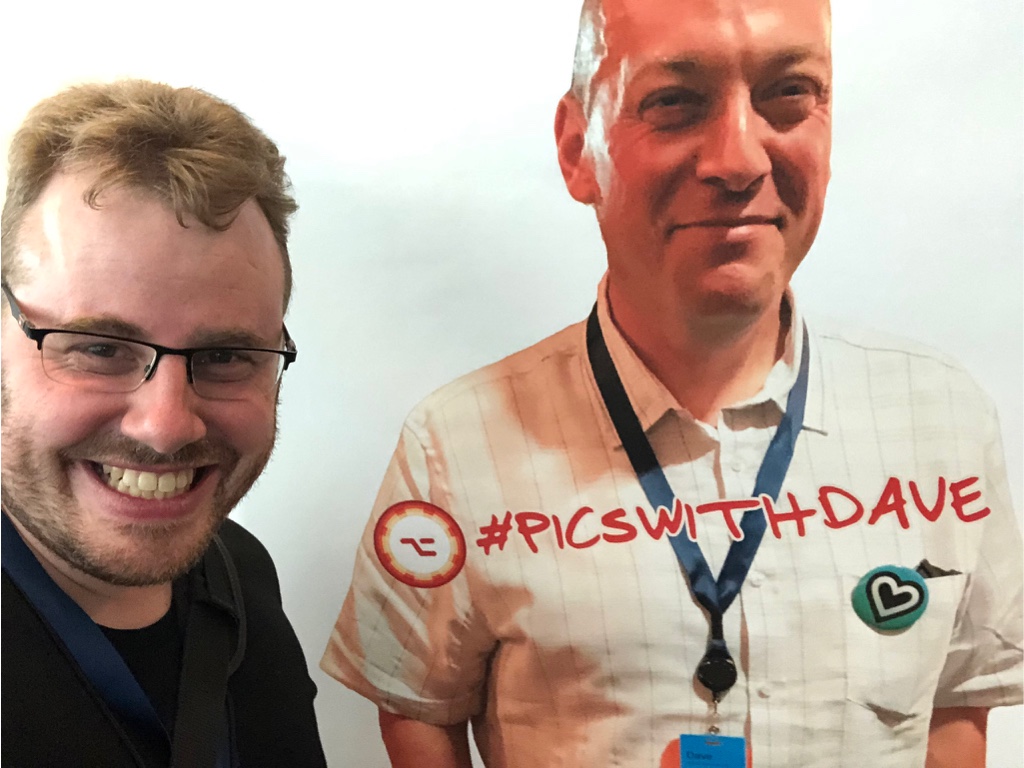 If you saw the banner, either for real in the foyer at AltConf or virtually via Twitter, then you may have been wondering what on earth was going on.
It's time for me to explain.
The birth of a hashtag
As with so many things that end up embarrasing me, Kevin Hoctor is responsible for this.
It all started after a day at WWDC in June 2014. There's a bar called The Chieftain next to Moscone West and I was there one night after the conference with a small group of people, including Kevin. At some point during the evening a group at the table next to where we were standing started getting ready to leave, so I asked if we could take their table. The person I asked said "Sure!" followed by "Hey, are you the guy who does the newsletter?" I had started putting my photo in iOS Dev Weekly earlier that year and it had led to a few people saying Hello during the conference. I was always a little embarrassed when this happened, but it was also lovely to hear the nice things they had to say about what I did.
I replied, a little awkwardly, that I was indeed the Dave from the newsletter. We had a brief conversation and it ended with him asking if he could take a photo with me. It was a very genuine and lovely interaction, but it was embarrasing just because it's strange to be recognised by someone who you don't know. As we stood taking the picture, I happened to look across at Kevin and he had the biggest grin I've ever seen on his face. He could see the whole experience was uncomfortable for me, and like I said before, there's nothing that makes him happier. 😂
By the end of that evening in the Chieftain, Kevin was asking every random person in the bar "Have you had your picture taken with Dave yet?" and encouraging people to tweet it with a #picswithdave hashtag … it was excruciating. 🙈
When the evening ended, I figured that would be the last I heard of it. But, thanks to Kevin and a few other people it has started back up in the weeks before WWDC every year since then.
What changed this year?
This year was different though. It started in largely the same way it has in previous years with friends asking for their annual #picswithdave, and other people encouraging it to happen. I figured the experience would be about the same as it had been in previous years.
Just to be clear, over the years I've become much more comfortable with people asking for pictures with me. It's also an incredible privilege to be able to be magically introduced to hundreds of people every WWDC, and hear all about where they are from and what they do. I'm grateful that it happened, no matter how it came to be!
So, back to what happened this year. I was out on Monday night with a few people after the keynote. During the evening, the topic of #picswithdave came up and someone took the photo that ended up on that banner you saw in the photos above. By Tuesday lunch time, that picture had been photoshopped by Oisín, printed by Rob and Sally, and was positioned prominently in the AltConf foyer. 🙈 I had no idea any of this had happened before I noticed people tagging me in pictures of themselves with it. 😱
I have since been supplied with some fantastic pictures of that process, which you all also deserve to see. 😀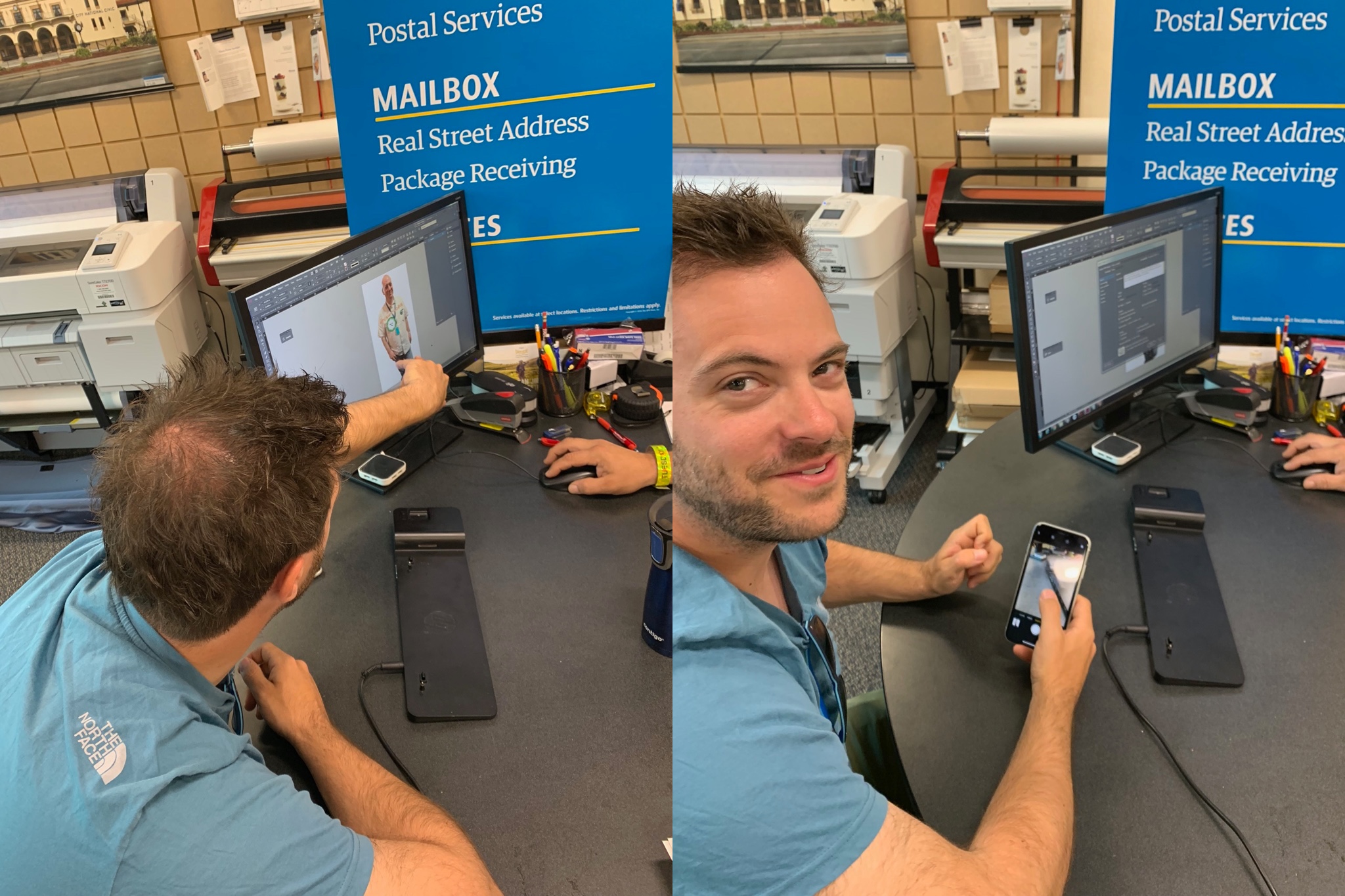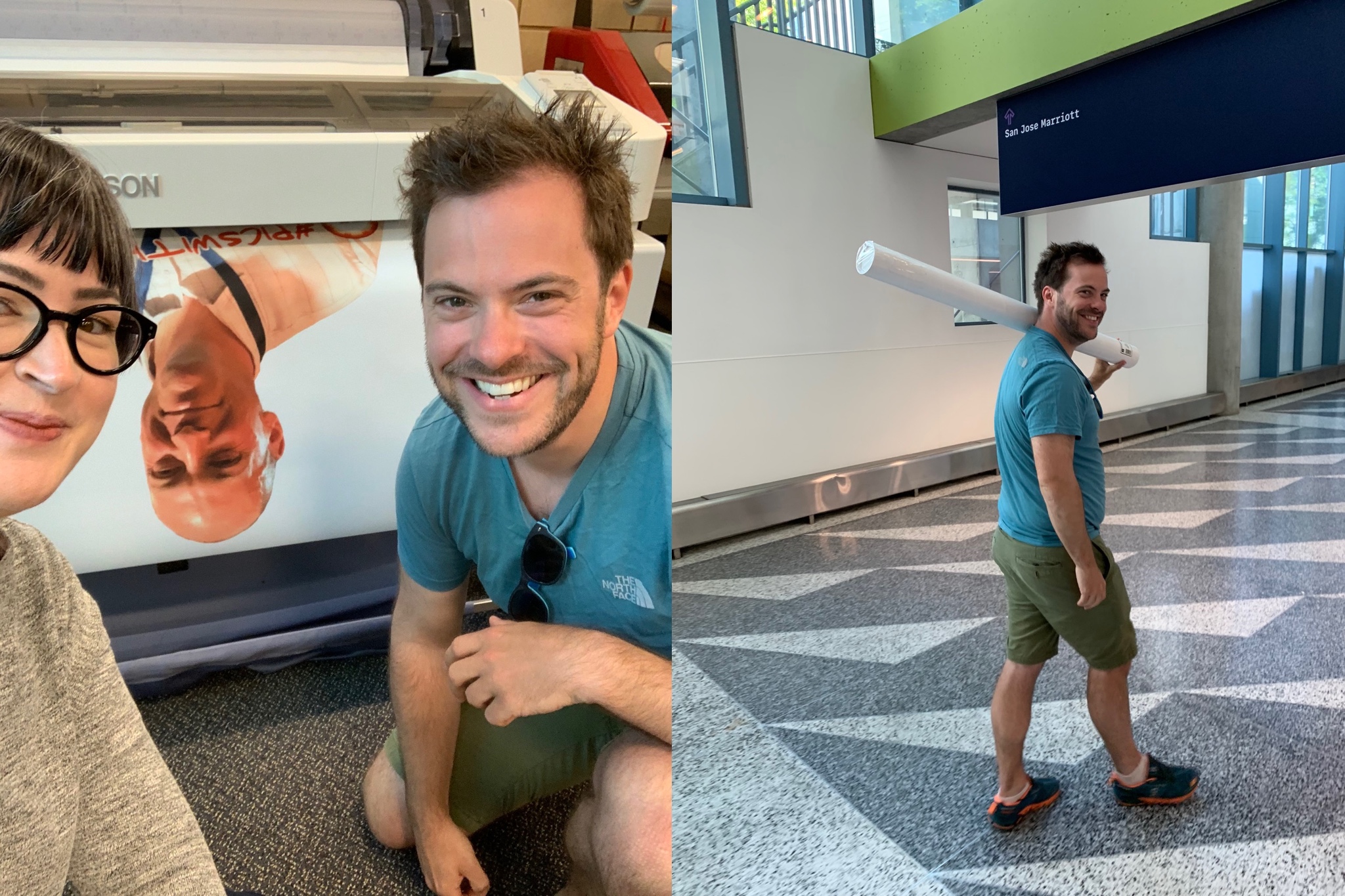 Just look how happy they are with themselves… 😂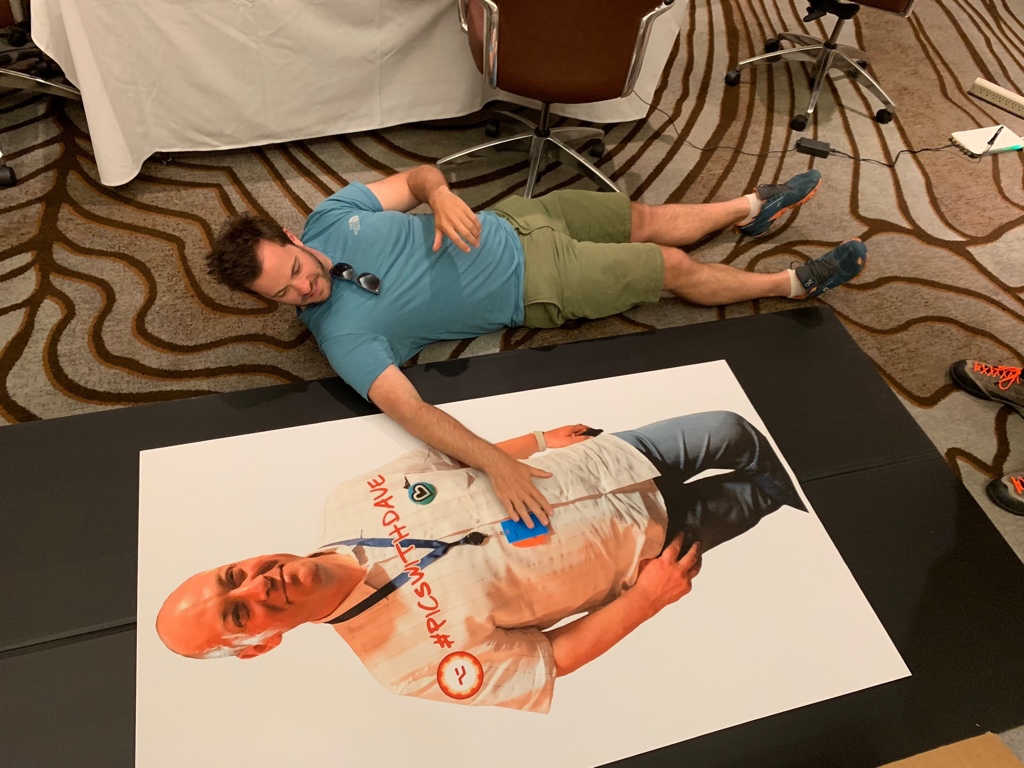 What happened next was that my week was taken over by #picswithdave! It felt like I couldn't walk twenty paces without being stopped and I met so many wonderful people because of it. It was an incredible experience. It didn't really matter whether I was inside AltConf (and therefore close to the banner), inside the McEnery Convention centre, or just out on the streets of San Jose. I must have posed for more than 200 photos during the week.
Why did I write this? Well, many people asked me what the whole thing was about as they were taking their selfie. I also know that many more of you didn't know the story behind it, but also didn't ask. Finally, I really wanted everyone to know that I didn't make a banner of myself just so people could take a picture with it! My ego is alive and well, but it's not that big! 😂
Will #picswithdave be back next year? Well, given that the life-sized banner of me with the hashtag printed on it still exists and that I don't know where it is right now, I suspect it may be. 🎢
Until then, I'll occasionally look back at all of the pictures from this year and smile. 👍
---
Do you want to make a comment? Talk to me on Twitter instead.